Akira
Speaks good English with enormous passion and energy.
He loves hiking, cycling and pottery lesson with his beloved wife!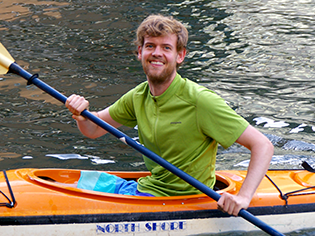 Asger
Asger developed his love for kayaking as a teenager on the coast of Denmark. Dreaming of rescuing capsized customers all day long in the beautiful canals of Tokyo, he heroically joined Tokyo Great Kayaking Tours immediately after discovering it existed.
While Asger is still working on his Japanese, he is fluent in English and you are welcome to test his Spanish and Mandarin abilities before they are flushed out completely by beer.

Carlos
Speaks good English and Portuguese and a little Spanish with funny jokes.
He also loves dancing especially Samba!
Carlos's favorite restaurant in Tokyo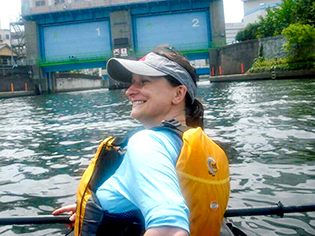 Ewa
paddling ,dancing and the outdoors are my passion.Tokyo is my second home .Please ask , we want you to enjoy your stay in Japan

Gera
Was born and raised in Kugenuma which is popular beach town near Kamakura. She paddled a lot when she was in high school and in university.
A former 2nd. place at Japan Kayak Race Championship.

Haruna
Speaks good English and Chinese with a 'kawaii' smile !
She loves skiing, scuba diving and also cooking!

Hideki
Loves kayak! He is on his precious kayak more than 50 days in a year even in winter. Normally enjoy kayaking in Shonan-Enoshima area (Kanagawa pref.) as a leader of the amateur kayak team.
He loves DIY, carving and …party after kayak!

Kazuori
He learnt paddling from his father when he was a little. He spend most of his weekends with paddling as well as climbinig moutains.

Masa
Enjoys kayaking various places in Japan, especially in Okinawa with his beloved kids.
He loves dancing , especially Salsa.

Yukiko
Enjoys all kinds of sports like kayaking, cycling, skiing. She has done Oxfam 100km- trail- walk twice, in HK and in Japan.
She loves beer and wine after any kinds of sports!
Yukiko's favorite restaurant in Tokyo

Yosshi
Enjoying paddling at Enoshima and Tokyo canals.
Drinking beer after kayak is his happiest moment!